Voice matters
We're a group of 23 youth authors, aged 11-22 from around the UK. RCPCH workers have been busy going all over the UK over two years to find out what children and young people think keeps them "healthy, happy and well" and which topic needs to be tackled first. We picked out the most important things that could make a big difference...
This page was published in March 2020.
Since then, young people have continued to work together on Voice Matters, to share what will help them to stay healthy, happy, and well. Read their May 2021 blog on RCPCH Insight.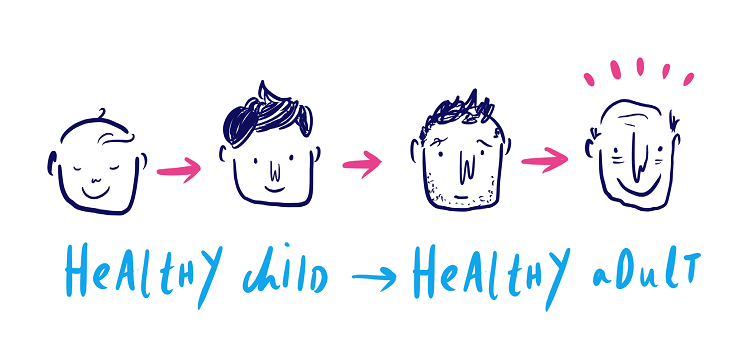 What's been done?
RCPCH workers have…
Spoken to over 630 children and young people age 6+ about their ideas
Done workshops with nearly 300 children and young people on topics around mental health, family, making health choices, home life and getting the right support
Run sessions in Cardiff, Rhyl, Enniskillen, Belfast, Derry/Londonderry, Brighton, Dumbarton, Edinburgh, London, St Albans, Warrington, Lincoln, Northampton, Luton, Milton Keynes, Beverley, Ipswich and beyond
Had comments online from children and young people from all over the country
Held a #voicematters vote with over 1,700 children and young people voting on State of Child Health topics
Worked with all ages and all backgrounds all over the UK
Even got two groups of youth authors together (that's us!), with young people aged 11-22 travelling from Newcastle, Liverpool, Sheffield, Bournemouth, London, Middlesbrough, Reading, Birmingham and Oxford to look at the results and create this report
Told you it was busy!
RCPCH &Us is a network for children, young people, parents and carers – created to actively seek and share their views to influence and shape policy and practice. It's a programme at the Royal College of Paediatrics and Child Health.
Our work includes projects, events, activities and sharing news to educate, collaborate, engage and change services for the better.
The first thing we had to do was to crunch the numbers, looking at all the sticky notes, papers and drawings to work out what we had found... We had to have help. We couldn't do it all ourselves as youth authors. (We even laughed when we heard how many ideas were collected!)
What we found out
Here are the results that we looked at with the RCPCH workers:
3,757 ideas shared by children as young as 6 up to young adults aged 25 across the four UK nations. They were asked: "what keeps you healthy, happy and well?" with the results showing that 'Food & Drink', 'Emotional health/wellbeing' and 'Places to go/Things to do' were the top three ideas for the UK, although some of these responses were different for each of the nations.
The results from 1,791 children and young people who voted in the #voicematters vote to choose which topic out of a list of six, that they thought had to be looked at first to help improve health and services. The results said 'Help to make healthy choices to stay healthy, happy and well' was the top choice.
Then it was our bit. As the 23 Youth Authors aged 11-22, we looked at all the data and then picked out the most important things that could make a big difference to children and young people's health.
We chose:
Improving mental health support
Rights and confidentiality
Accessible and youth friendly services
Thinking about the support we need and why
What does good look like?
Twenty-nine children aged 7-8 years spent a day with staff at RCPCH. They created a set of 'child health values' that would help children and young people to stay healthy, happy and well.
Here are their child health values:
We looked at the top six topics from across the UK (see our first graph above) to see what children and young people said.
We were thinking about what helps us to be 'medically healthy' (eg advice a doctor or nurse would tell you), and what keeps us 'happy', using the ideas from children and young people. When you put these together, then it can make you feel 'well'.
We talked about what the ratio should be, too. Is it 60% medical + 40% personal = well, or 70/30, or 50/50?
The main thing for health workers is to remember that everyone has a different balance but might need help to find their balance. We know that gaming, sweets and treats are good every now and then, but need help with managing this in the same way we need help to have positive mental health and good friendships.
We recommend clinicians find out what children and young people individually need to stay happy, and give advice that meets their individual needs and lifestyles that can help to keep them healthy.
What can health professionals do about this?
We thought about what the main things are that health professionals should think about to help keep children and young people "healthy, happy and well". There are four areas to think about for individual health workers, for services and for the top decision makers to work on.
In each of these areas, we'd like you to think about what has been said by the children and young people involved in this project. Talk about it with people you work with and find ways in which you can create a change both on your own and together.
Mental health
Poor mental health is on the rise and we need to do more to enable children and young people to be as open and safe as possible.
Christina is a 16-year-old girl aiming for a football academy. She is a star athlete with great grades and an amazing friendship group.
Today she received a letter. A letter that will determine her whole career. A letter that changed her life.
It says, "Dear Ms Morgan. We regret to inform you that you have not secured a place at Pembroke Academy due to a high number of outstanding try outs."
A month later: Chris is in bed. Her attendance has dropped to 57%. She no longer goes out with her friends. She has stopped sports entirely. She has resorted to drugs and alcohol to find her high. She is no longer managing her eating. Chris doesn't know who to turn to. Chris is at rock bottom.
Eighty eight percent of young people don't think there is enough support available for mental health.
The next day: Knock knock. John arrives. John is Chris's best friend. John decides to invite Chris out to basketball at the local youth club. He realises that Chris hasn't been out much and he is trying to have a chat to her. While playing basketball, Chris realises that she loves sport. She would rather play it non competitively than leave it entirely. This is when she realises it has gone too far.
She decides to pick her life back up. She starts eating healthy, joins the debate club… and just starts again. Although her life isn't exactly the same as it was before, she's realised it's better to keep on living than to be alone.
Chris realises John has been there from the beginning and how he supported through everything. She realised that friends and family are important.
Children and young people that shared ideas about State of Child Health in sessions, said that mental health includes:
The quality life we have; feeling happy, confident, stress-free and safe wherever we are
Having someone to talk to
Being respected and accepted, no matter what
That everyone is special, and you shouldn't judge them, and  that everyone should be treated the same
Finding our worth and respecting yourself
Feeling able to ask for support
Being stable in our mind and having good wellbeing
Mental health conditions, eg feeling suicidal, like you don't have control, people who have been influenced and now have weird things in their head, bullying, social media effect on us, male mental health
They had ideas about what you could do:
More awareness
Better support, from home, school and the NHS
Quicker appointments
Pastoral support in schools is really important
Support networks
It is very important that those who need help get it
It to be seen as the same as children and young people's physical health
Explore the evidence on mental health prevalence, mental health services (CAMHS) and suicide.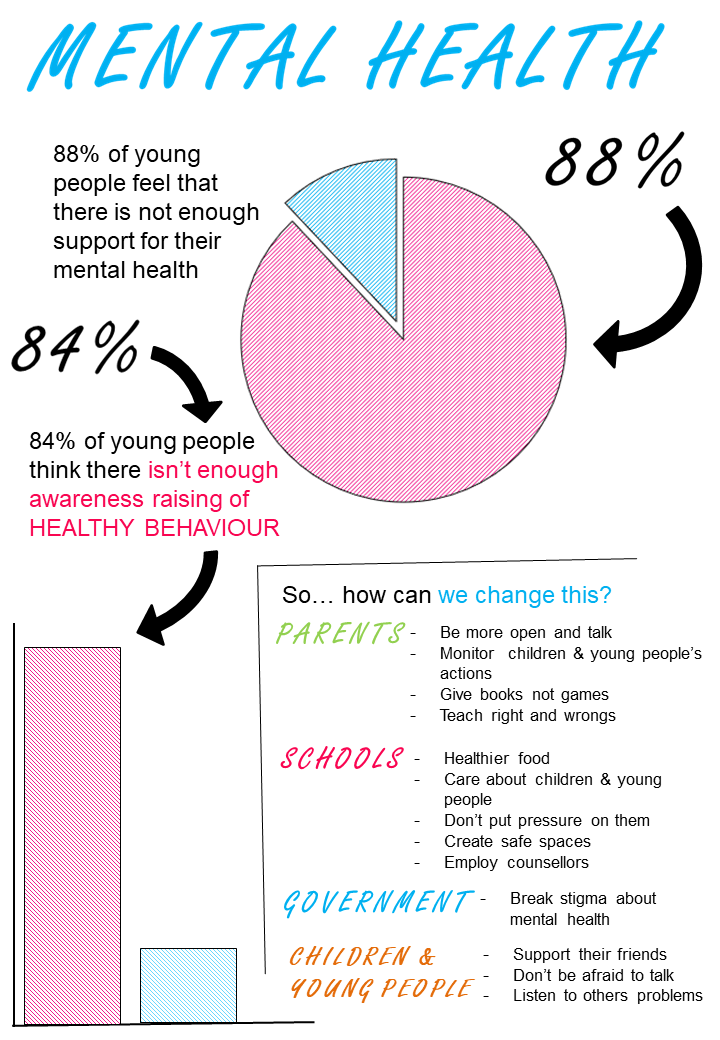 Rights and confidentiality
Written in 1989, the UN Convention on the Rights of the Child (UNCRC) is a set of rules, or 'articles', saying how each child and young person can be kept safe from harm, have chances to develop, become an individual and thrive.
RCPCH &Us children and young people have looked at the United Nations Convention on the Rights of the Child (UNCRC). They want everyone to know about two articles:
Article 12 The right to be involved in decisions that affect you, from individual care decisions through to shaping health services that you might use
Article 24 The right to the best health care possible, including child and youth friendly health services
It's important in health services that there is a good explanation of what confidentiality means, so that children, young people, their parents and workers all know the same meaning. Children and young people need to feel protected, that they can talk to health workers who know about rights, and that they will help them to communicate what is going on.
We need you to be considerate of your surroundings when talking to patients and be respectful to their situation. It is important to also be aware of the age group and how to appropriately speak to your patient and make sure that when you speak to them it is confidential and not through a paper-thin curtain.

The NHS England Youth Forum made some good posters about rights and confidentiality in healthcare which you can put up and share with patient and families. Then children and young people will never feel like the curtain has been ripped open around them again. This could mean their secrets and worries are shared with people they didn't know could hear or to people who they didn't know would be told. We think this could be really damaging to the child or young person's mental health.
Explore more advice and guidance for healthcare professionals.
Accessible and youth friendly services
Children and young people need health services to develop so that it makes it easier and a nicer experience to use them. For some, it can be hard because of previous experiences or that it is something scary or that because of their support needs it can make them feel anxious.

Some places are cold, boring and don't look like they are for children and young people, so could do with some help to make them feel like a better place to visit. Sometimes it feels that they are not youth friendly.
Children and young people feel that when they have to tell their story/condition history more than once, it means that people forgot what they said, or that they weren't important enough to be remembered or that the service loses things and can't be trusted. Telling their story once is important.
There are lots of projects out there like RCPCH &Us, including Hospital Youth Forums or Youth Healthwatch Groups or Youth Councils who would like to work with services to help improve skills in being youth friendly and improving the way it all happens. Maybe you can talk to your local group for ideas? Don't forget – it might feel difficult, but it is not impossible. Change is possible. Ideas do work!
You could ask patients and families to be involved and share stories that would then help to understand experience of accessing services.
If you want to make child and youth friendly information, think about it being personal with examples from patients. This could show what action is happening, should only have 3-4 points of information to share and have a clear summary. You could do different things like videos with interviews or role plays, but make sure it stands out for children and young people! You can read more from young people about youth friendly services in the You're Welcome Guidance (pdf).
Thinking about the support we need and why
We started to look at the support needed when in hospital. This felt like an important area based on the data from children and young people needing to know there was someone to talk to about things that worried you and our personal experiences of being in hospital.
We were thinking about mental health support, which is important for all conditions, even more so when you are in hospital – and about making sure children and young people are listened to. We got creative and thought about a quick poster that could help staff to know what the issue is and ideas to help make it better!
Did you also know that there are surveys of what it feels like to be a patient in hospital that are run by the CQC? The 2018 survey had 33,000 responses from children, young people and families – now that is a lot of ideas that could help you think about what to do next!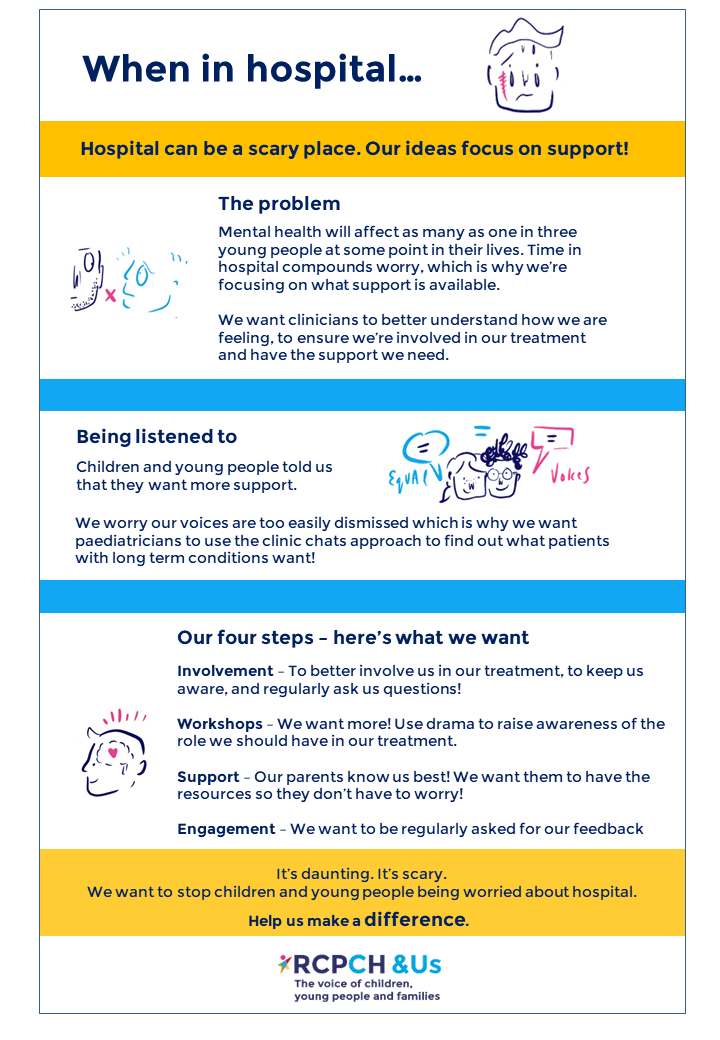 Thank you!
We want to say thank you for reading our ideas about keeping children "healthy, happy and well". We know that there is lots of other things to think about and that there is sometimes too much to do with not enough people to help. We hope that these ideas help you to know what children and young people think.
We think you are lifesavers and the NHS is the best invention of the 20th century and we want to help you if we can (some children and young people event made a video!).
There are thousands of children and young people all over the UK that would love to help you and the NHS to keep being amazing. As a health professional you can sign up for the RCPCH Engagement Collaborative, and as a child, young person or family member you can sign up to our RCPCH &Us network.
RCPCH &Us authors
Young people from the Young People's Advisory Group North England (YPAGNe)
RCPCH &Us: Ellie, Sophie, Joseph, Jamie, Sashank, Hamnah, Adam, Demi, Nadia, Michael
RCPCH Children and Young People's Engagement team: Emma Sparrow, Alli Guiton, Emma Hosking
Contact details
Email RCPCH Children & Young People's Engagement team